PERFORMANCE
Intended primarily as a short-range, back-up gun, the GOBLIN SOLO produces its optimum velocity within 15-20 feet of the muzzle. At this distance, using CO2, a launched Paintball will easily splatter against its intended target, with a typical velocity of 200 feet per second (FPS).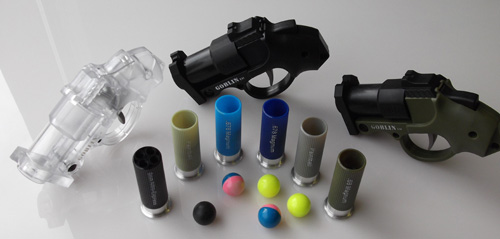 It is therefore recommended that GOBLIN Air Cartridges be filled with CO2 whenever possible, especially when optimum velocities are desirable or necessary.
In order to deliver relatively consistent performance using a variety of compressed air sources, GOBLIN Air Cartridges use a series of O-Ring seals and valves to store and then release each air charge. As many of these parts are extremely small and operate at high tolerances, continual O-Ring wear requires that these seals be replaced from time to time. A spare O-Ring Kit is included with each GOBLIN SOLO Set, and replacement is covered in the GOBLIN SOLO's Owner's Manual.